EASILY MAKE A RESERVATION WITH ONE OF OUR EROTIC MASSEUSES IN BARCELONA
TANTRA MASSAGE CENTER IN BARCELONA

Immerse yourself in the relaxing experience which offers you a Tantra Massage in Barcelona and enjoy, like never before, the magic and intimacy of our caresses. Enter the privacy of our chambers bathed in a zen warm and exclusive atmosphere. Relax your body and scare away your negative emotions, at the same time that you enjoy the contact of our expert hands on your body. Come to our Tantra Massage Center in Barcelona either alone or with your partner and let yourself be carried to the delights of a trip full of pleasure and oriental wisdom.
At Masajes Tantra Barcelona we have an extensive menu of tantra massages for all tastes and within the reach of all budgets. Choose the one that best suits your needs! NO SEX OFFERED!
| 30′-90€ | 45′-120€ | 60′-150€ |

In Tantra Massages Barcelona we offer you the possibility that you not only choose the massage that best suits your needs or the masseuse that attracts you the most, but you can also choose in which suite you want to be treated… Why is this so important? Because each suite has a special atmosphere that will make you feel in a wonderful world, full of magic, sensuality and exoticism. Your tantra massage session will take place with the best atmosphere you can imagine: A dream world is waiting for you.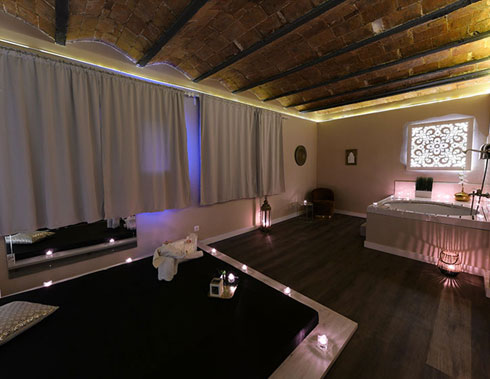 Have you ever dreamed of living in a story of "The thousand and one nights"? Do you want to feel the sheikh of an Arab palace, surrounded by luxury, beauty, exoticism and lush decoration? And, in addition, accompanied by a beautiful masseuse, who dances you a belly dance and seduces you with its waving and rhythmic movements of hips? Well, let us tell you that you have found the right suite. Room where ocher, gold, beige and gray colors predominate, giving it a warm and welcoming environment where you can get your tantra massage service. You will greatly enjoy a feeling of general warmth, relaxed in a raised tatami, with an impressive western-style head, with a high quality and spacious jacuzzi, where you you can enjoy especially our Obscene Passion massage, an environment and an experience worthy of the more special customers. Why is Obscene Passion the ideal massage? Because while listening to the rhythmic Arabic drum along with the vibrating of the strings of a lute, you can smoke a delicious shisha, so common from the Arab peoples, while you relax in our relaxing pool of bubbling water next to the chosen masseuse. Are you going to miss this exquisite experience?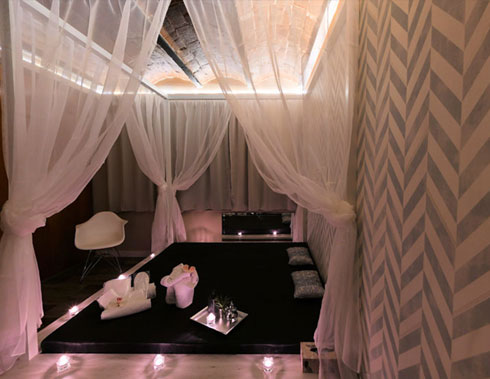 All the tropical Asian essence condensed in a room. Thailand is the lost paradise of every tourist… We invite you to access a very similar replica of the Asian paradise, full of peace, warmth and an environment conducive to unleashing eroticism and sensuality. Mainly, it is a room made up of wooden furniture, which confers precisely that warm and familiar atmosphere, in which you will feel deeply at ease. The walls covered with velvet tapestries and pictures hanging on them with Buddhist symbols on them. In the center, you will find the tatami raised with covers and pillows decorated in the Thai style. Feel in the center of Asia with this sublime and special room. The recommended massage is the Mistic Tantra: a game of seduction, sensitivity and eroticism that will not leave you indifferent await you with this massage.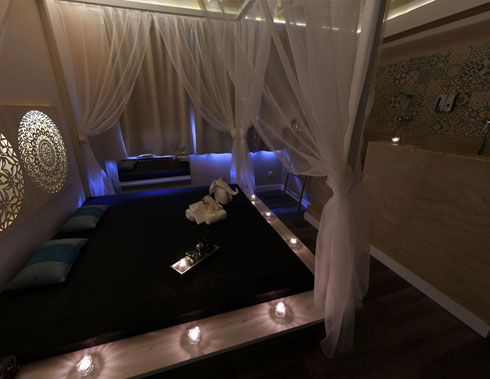 The most exotic room in our center. Wide and ivory and ocher walls, predominantly wooden furniture, tropical plants in the corners, creating a space of warmth and comfort that invites the rest of your senses. You will feel the relaxing music flooding your being and distending your muscles, and then enjoying the Mutual Tantra massage, ideal for you to obtain the combination of pleasure, relaxation and excitement that takes you to a deep climax. An exotic environment that will stimulate your libido to have one of the most complete experiences of your life. You can stretch over a comfortable raised tatami, feeling the comfort of the sheets while your chosen masseuse prepares the oil to massage your body with all the professionalism and experience of a professional masseuse. Enjoy the best atmosphere in one of the most exclusive rooms of our Tantra Massage Center Barcelona and feel like you are on vacation on the distant island of Bali.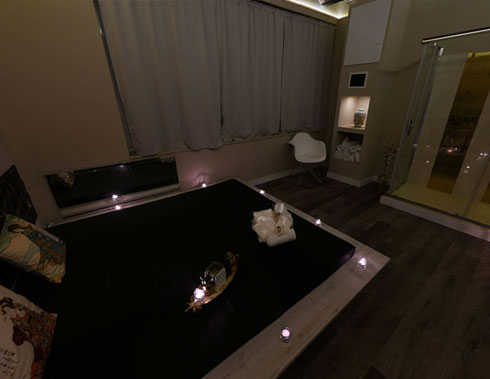 Choose the Japanese room to live an oriental experience that transports you to the world of geisha and Japanese emperors. Soft music will play from the background, an oriental mix of shakuhachi flute with the undulating sound of the tranquil flow of the river, with which you will be able to reach a perfect Zen state, of concentration and relaxation at the same time. Minimalist and simple, but loaded with exotic oriental fragrance. This exclusive room is furnished with a raised tatami where you will wait in a state of absolute relaxation for the masseuse to make you the best melee massage you have imagined; canvases of refined Japanese art, with Japanese inscriptions and flowers, and a large shower, where you can take a shower with the masseuse of your choice. This room is ideal to combine with the Nuru massage. Feel the Japanese spirit in your tantra massage session.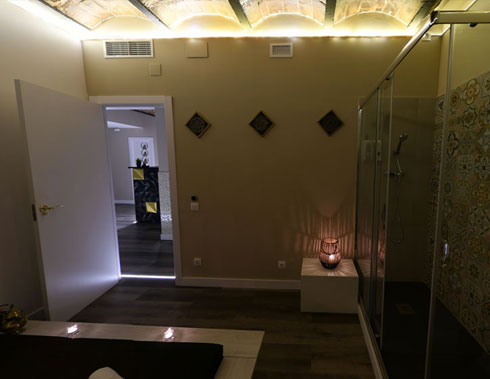 Access our suite of Hindu atmosphere and feel transported to a world of deep meditation, spirituality and, why not, sensuality. Accompanied from the bottom of relaxing mantras, you can enjoy the best tantra session of your life, in which the professional masseuse will guide you to discover the deep secrets of tantra and eroticism in an inexplicably magical session. This room stands out for the presence of lacquered furniture, vibrant colors and silk fabrics. Decorated with scented candles and incense, intended to make you enter a state of absolute disconnection from which you can begin to know the wonders of tantra. Apart from that, bamboo plants, elephants with a raised trunk and Buddhas placed methodically throughout the room, symbols of the Indian tradition, cannot be missing. Try our Lust Tantra massage in this room to experience tantra in all its fullness. What are you waiting for?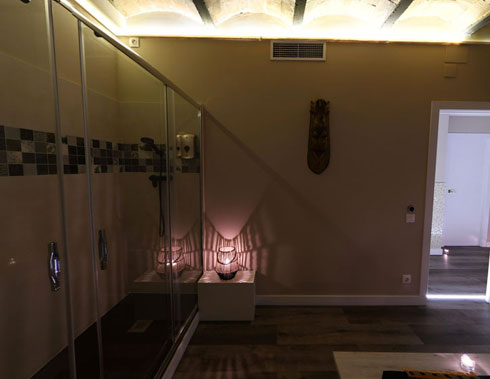 The African savannah is the space destined to instinct, rituals and spell, and above all to enjoy freedom and savagery in its most natural state. A place where the most basic instincts are released, where you can unleash unbridled passion and where both the masseuse and the guttural sound of the background drum will bewitch you to make you live a sublime mystical trance experience. Room inspired by its decoration mainly in elements of nature, animal prints, trunks, African masks that symbolize sacred objects hanging from the walls, carpets with ethnic prints… Earth colors predominate, reminiscent of the sunburned earth. In the center, there will be the raised tatami where the erotic masseuse will enchant you with her gifts of eroticism and sensuality.
WHOM ARE DESTINED THE TANTRA OR EROTIC MASSAGES?

Those who are part of the Tantra Massage Center in Barcelona differ from our competition in a lot of aspects. One of the most important is that our feminine and masculine masseurs are not just beauties with sculptural bodies, but also they are kind, educated and real experts of the tantra massage art. Be sure that they will find all your erogenous areas to satisfy you completely, whatever your sexual orientation is.
TANTRA MASSAGE FOR MEN
If you have an open mind and have been wanting to experience something different with your sexuality for a while, live a Tantra experience now.
EXCLUSIVE TANTRA MASSAGE CENTER

In our tantra massage center all is intimacy, sensuality and exclusivity. It is set in an environment where even the most little detail is thought to make you live an unforgettable erotic experience. We have a team of massage therapists composed of educated, kind men and women, endowed with impressive beauty and infarct bodies. Their professionalism will dazzle you from minute one and will make you want to visit us again and again to know all the types of massages we can offer you, including lingam massage and yoni massage. The exquisiteness and delicacy with which you will receive a tantra massage in Barcelona will lead you to the very clouds. And their eroticism will return to you the sensuality and those sensations of ecstasy that you thought were lost forever. ¿Are you asking for the price? Let it not be the cause of your worry. We have a wide menu of quality massages designed for all the budgets, between which you will find the one that suits most to your possibilities and tastes. We wait for you!
WHAT ARE TANTRA MASSAGES?
WHAT DO WE OFFER IN OUR EROTIC MASSAGE CENTER?

If you came here, looking for a center of erotic massages in Barcelona where you feel treated in a personal way, we can deduce that you are eager to live a different experience. With our tantric massages you can discover the incredible sensation of enjoying an intimate atmosphere and of feeling in your body the hands of our and our sculptural and expert masseurs in Tantra massages. You can also come with your partner, if you wish. Quality in tantric massages and at prices that will amaze and encourage you to repeat the experience with us again and again. Write us or come to our center, we are eager to give you the best of ourselves so that you can live the best erotic experience of your life!
QUALITY SEAL – WHY DO OUR CUSTOMERS CHOOSE US?